I promise, this is not a Christmas guide (we're already suffocating in them, y'all don't need another one); this is a handy little guide to help you have a less wasteful Christmas.
Last week, we spoke about why you would want to reduce the amount of waste you send to landfill and some of the ways you can benefit from it. Problem is, we're probably coming up to the most wasteful time of year; Christmas. From piles of wrapping paper that dwarf Mount Doom, Christmas cards flying through your letterbox like you're Harry Potter, secret Santa gifts from someone who barely knows your name, and not having enough cups for your family, your rubbish situation can get out of control quickly.
Let's look at a few ways we can have a less wasteful Christmas - I suspect it might also be a teeny bit less stressful too, but I'll leave that up to you to decide.
Thoughtful gifts & experiences
Some people dread trying to buy gifts while others are pros at picking out something to be cherished without the slightest hint. Let's be real for a sec, we all know our family will buy each other gifts, even though we all say "oh, I don't want anything." Or your Mum says "a tidy house" for the 12th year in a row.
We know we're all going to buy each other gifts, so let's be helpful and talk about things we'd actually use or like. If you can't find a thing to get a family member or friend, give experiences; take them out for food, go to the cinema, or take them to see their favourite band or show.
If you want to keep the element of surprise, give each other a list and pick one thing from it. This is what me and my vinyl-loving friend do - we give each other a list of a few albums we'd like, and we pick one off the list. Buying people gifts they need or want is a great way to reduce waste over Christmas and 'clutter' people feel they have to keep. If you do find yourself with gifts you won't use, donate them to local charities.
Support local businesses
Where you can, shop locally to support local businesses, put money back into your local economy, reduce your environmental footprint, and reduce packaging. If you do order online, consider adding a "please use non-plastic packaging where possible" note to your order.
Make sure everyone understands you're trying to have a less wasteful Christmas
Being British, this is likely to be an awkward conversation unless someone else brings it up for you. Ah, I don't even know how this country developed, let alone conquered places and built and empire - we hate asking for anything or being a mild inconvenience.
As awkward as you might feel (or not if you're from anywhere else on the planet), bring the topic up with your friends and family. Explain you're trying to have a less wasteful Christmas and why it's important to you. No one is going to be a dick about having less rubbish that isn't going to be collected for another two weeks because of how the bank holidays fall. Who knows, you might even inspire your friends and family to give it a bash too.
Shop ethically and sustainably
For a lot of people, Christmas is probably the most expensive time of the year, and ethical and sustainable items are often more expensive than their non-ethical counterparts. BUT, it doesn't mean your gifts have to break the bank at all.
Look for cruelty-free, toxin-free skincare and makeup - some of my favourite skincare brands are

Lani

and Antipodes

Instead of buying multiple gifts, by one gift that will stand the test of time - buy

one snuggly, ethically made jumper

instead of more smaller gifts

How about a

cozy-looking pair of handknit vegan socks

? Tell me you don't want to wear them, I dare ya.

Dad, brother, or boyfriend need a new wallet?

Etsy is your friend

.

Make something - why not challenge your family and friends to make all your gifts; socks, scarves, jams, cake, Skittles vodka, candles…whatever. Get your Pinterest on and become a crafting wizard.
Rethink wrapping paper
I dread to think how much wrapping paper we throw away every year that can't be recycled. It can be really tricky to figure out whether or not you can actually recycle your wrapping paper. I used to think all wrapping paper was recyclable - turns out it's not and even Recycle Now can't give you a definitive answer. If you want to use wrapping paper, buy recycled paper that can also be recycled.
If not, how about:
Using newspaper

Using gift bags that can be reused

Cloth wraps

Not bothering - I love this idea because my wrapping skills are B- on a good day (and that's just wrapping cubes or oblongs)

and

I get tangled up in sellotape
Ask everyone to bring a cup/cutlery
Fifteen people turning up on Christmas Eve? Don't buy paper cups or plastic cutlery; ask your family and friends to bring their own. It's not weird. Unless you're hosting dinner parties all the time, there's no need for you to buy more glasses or plates that you'll have to sift through all the time. And you sure as hell are not buying plastic cutlery on my watch. I'm sorry, but you signed up for this kinda ass-kicking when you read this blog.
We do not use plastic cutlery in this house blog community. We get everyone to channel their inner Joey Tribbiani and carry cutlery in their coat pockets. Joey gets it.
Eat those leftovers
Make sure you chomp up those leftovers and send your favourite people away with doggy bags for when they can finally look at food again - usually around 4 pm on Boxing Day.
Dispose of your tree responsibly
I can't figure out how I feel about Christmas trees. Daz and I have an artificial one; it's plastic, and I'm sure there are all kinds of things in it that I'd rather not know about. On the other hand, the thought of chopping down a tree makes my stomach knot. Though, if it gets turned into woodchip or used as a biofuel afterwards, it's good for the ol' carbon sink...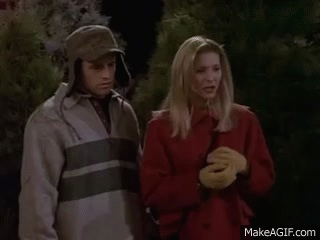 If you have a real Christmas tree, check out your local council website to find out if they are collecting Christmas trees kerbside, or if there's somewhere you can take your tree.
Turns out, it's not as hard as you think to have a less wasteful Christmas. I mean, we get to save the planet a little, find ourselves surrounded by a small hill of wrapping paper instead of a mountain, and you're less likely to find yourself grumbling in the cold on Boxing Day night that the bin is too full and the wrapping paper is blowing around. Who doesn't enjoy the thought of that?