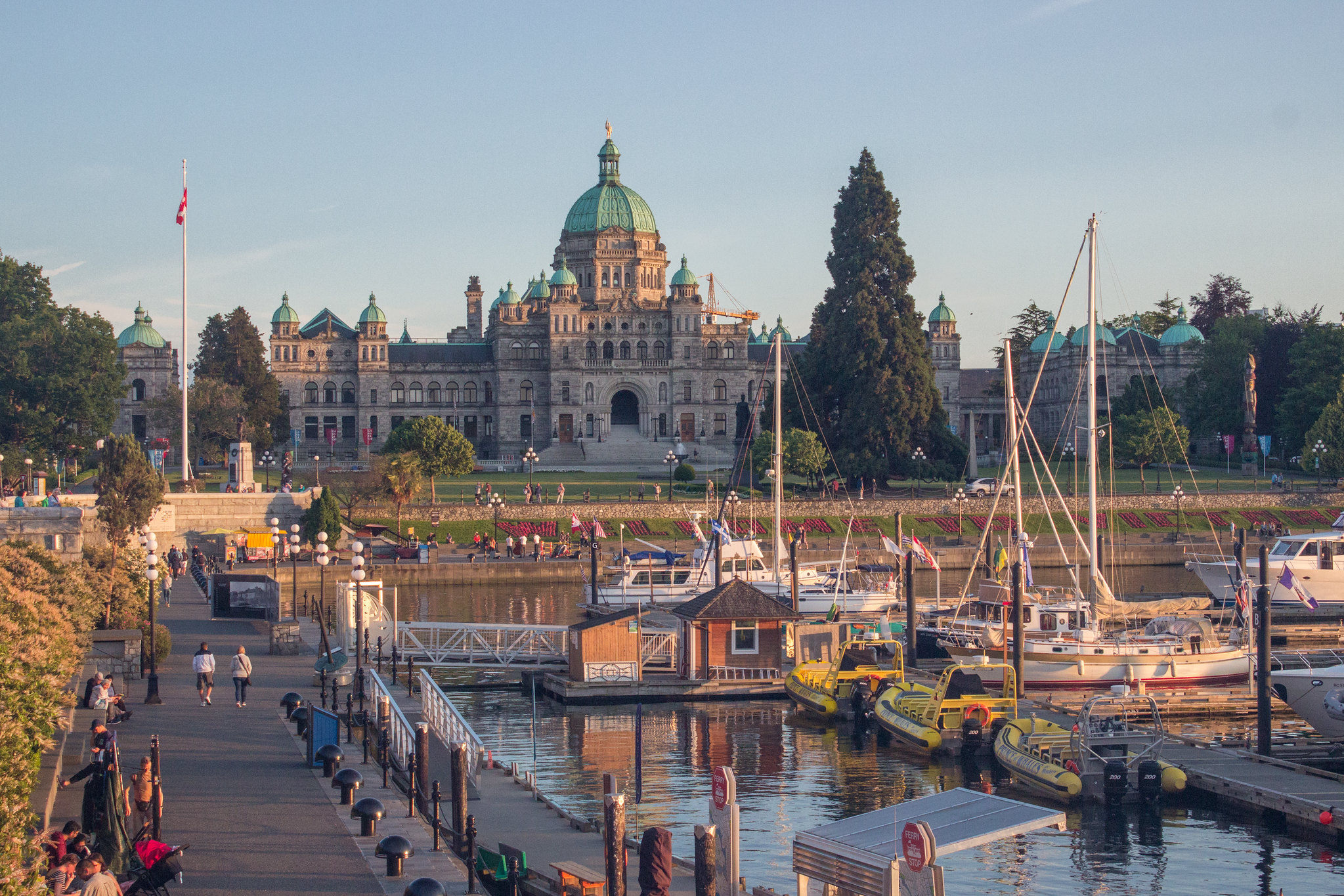 I'm trying to avoid the cliche that it's hard to just spend one day in Victoria, but it's true. The beautiful, British-inspired capital of British Columbia could easily steal a few days of your time as you stroll the streets, marvel at ornate buildings, go wildlife watching, and explore all the museums.
We had one full day in Victoria before driving onto to Tofino, and it was enough for a short introduction to the city that left us wanting more.
---
Walk the city
On our day in Victoria we ended up walking something stupid like 20km, and boy did our feet know about it. We parked out at Beacon Hill Park by the ocean and walked along the coast into Victoria. It took us about an hour, and it was a great way to get a feel for the city. The coastline is stunning and combined with 20C+ temperatures, you could have easily pretended you were somewhere in the Mediterranean.
The city itself is seriously beautiful. A lot of the buildings are very Victorian-era Britain inspired and to be honest, Victoria's architecture puts a lot of British cities to shame.
Fisherman's Wharf
Fisherman's Wharf is a few minutes walk from Victoria's inner harbour and is a must-see when you're visiting the city. We went on World Ocean Day and the wharf was teeming with people, and stalls set up by charities educating people about the state of our oceans, and getting kids involved with conservation. It was a boiling hot day and I'm sure that had it not been World Ocean Day, the place would still have been packed.
The funky wharf is made up of a few piers with colourful floating homes (yes, people actually live there), restaurants, shops, and tourist information. Grey seals like to pop up in the harbour sometimes too, alas we didn't see any when we went; though it's still fun to try and spot them.
Wildlife watching
On the walk from the Inner Harbour to Fisherman's Wharf you don't have to look to far to spot some local wildlife. As we walked into Victoria, we followed an otter and a heron, who were competing for fish. It was pretty amusing to watch the otter steal the herons food; you could almost see the look of absolute disgust on that birds face.
I know you're already short on time, because you only have one day in Victoria, but if you really want to; there are plenty of whale-watching tours leaving Victoria. Both Daz and I really want to see an Orca. We took a whale-watching tour in Tofino, and didn't see one; from the research I've done since, it seems like you have a better chance of seeing killer whales on tours leaving from Victoria or Vancouver. Maybe I'm wrong, I'm certainly no expert, but it just seems that way from what I've seen since.
And because you're short on time, if you want to speed things up you can catch a water taxi to explore the city faster.
Walk the sea wall
Ok, so Victoria doesn't technically have a seawall but you can easily make a really nice trail from the Inner Harbour to Beacon Hill Park. From the Inner Harbour, keep walking along the water towards Ogden Point (and stop of there, too), keep going up Dallas Road, and then join the Dallas Road Waterfront Trail.
Museums & fancy buildings
Victoria is not short on beautiful looking buildings and museums. The most famous of which is the BC Parliament Building, and it's easy to see why when you finally see it with your own eyes. In Victoria, you'll also find the Royal BC Museum, the Robert Batemen Centre art museum, the Maritime Museum of British Columbia, the Art Gallery of Greater Victoria, and so much more. To top it all off, they even have a castle in the city too! Craigdarroch Castle is a Scottish-inspired castle about a 35-minute walk from Downtown Victoria.
The city also has plenty of parks and gardens, the most famous of which being Butchart Gardens. I get the feeling you could spend your one day just exploring the gardens if you wanted.
Stick around for sunset
Let's make sure we finish those feet and legs off! I'm pretty sure our feet were overjoyed when we sat down for dinner; it wasn't over for them just yet.
The city quietens down in the evening, and you can watch the sun paint the sky above the BC Parliament building orange and pink, to the tune of a local busker playing to a small crowd in the harbour. Take a walk towards Fisherman's Wharf and you can experience an orange sunset with no one else around.
And when you've walked your little legs off, you can finally chill out. We were camping and stayed at McDonald Campground out near Sidney, which was about a half an hour drive. It's a small unmanned campsite in a little wooded area. It was so nice to wake up and cook breakfast surrounded by trees. It is pretty close to a main road, though we didn't find it disturbed us.
Have you ever been to Victoria?